TJ Mold & Tool Co, Inc.
Vermont based full service tool and die facility
Manufacturer of wax injection molds for the investment casting industry's lost wax process. From concept to design, to construction, whether you need a single cavity, manual mold or a multi cavity, fully automated, water cooled,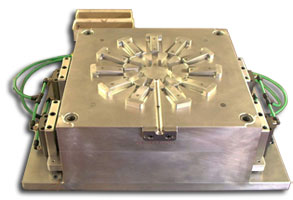 injection mold, we have the skill set to deliver just what you are looking for. We are a "one stop shop" for all of your wax injection mold needs.

We offer full service die building and repair. From a 4"x4" single station stamping and/or forming tool to a 2'x5' multi station progressive tool, TJ mold and tool has the experience and equipment to handle the job. Even if it is only a single station of a large multi station progressive tool you need built or modified, we can be of assistance to your company.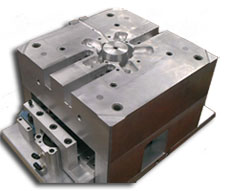 We also build many types of holding fixtures and jigs for end manufacturers to use in their own processes. Drilling, milling, turning, welding, holding, and inspection are just a few. These fixtures can range from single station manual to multi station automated to fit your own processes.

Full 3D surface modeling and machining are among many services offered here at our facility. We can work from paper prints, 2D or 3D electronic files, or full 3D models of most any file type.
ASQ and SME certified Members
Servicing the aerospace, automotive, commercial industrial, and the medical device industries.
Investment Mold Design, Injection Molds Repair, Fixtures, Casting, VT, Vermont Tool
Steel Die, Stamping Dies, Precision Gages, Jigs, New England, US Manufacturer